Bollington Childrens Music Theatre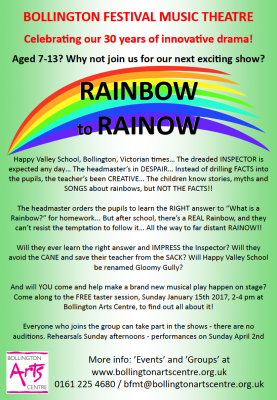 Bollington Festival Music Theatre present Rainbow to Rainow, a brand new musical play to delight all ages. In Victorian Bollington, the dreaded schools inspector is on his way. The children must answer his question 'What is a Rainbow?' To find out, they follow one, all the way to far distant Rainow!
Sunday April 2nd 2.30pm and 5.00 pm Tickets £7.00 and £3.50 for children on the door.