The Macclesfield Canal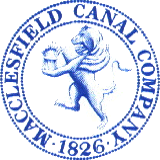 The Macclesfield Canal was one of the last narrow canals to be built, indeed, it was very nearly built as a railway. The canal is noted for its fine stone bridges - particularly the six change or snake bridges where the towpath changes sides of the canal. These bridges were designed to allow the horse to move over without having to untie it from the boat.
The canal runs 26 miles (42 km) from Marple Junction at Marple, where it joins the Upper Peak Forest Canal, 16 miles (26 km), southwards (through Bollington and Macclesfield), before arriving at Bosley.
The scenery is impressive, as it cuts through glorious countryside and past historic mills. There are no tunnels on this stretch of canal but it passes over an impressive aquaduct in Bollington.
Having descended the 12 Bosley Locks over the course of about a mile (1.6 km), the canal continues through Congleton to a junction with the Hall Green Branch of the Trent & Mersey Canal at Hall Green stop lock (the branch itself joins the main line a mile further on at Hardings Wood Junction, near Kidsgrove).
The canal was initially proposed at a public meeting held on 22 September 1824 at the Macclesfield Arms in Macclesfield. Unlike earlier canals, the spectre of the arrival of the railways was already in sight, and at least one present at the first meeting suggested that a railway might be built.
By the time the canal gained its Act of Parliament in 1826, the estimated cost of building the canal (to be funded by shareholders) was put at £295,000. The authorised share capital was £300,000, and the company had powers to borrow a further £100,000.
Construction of the canal began at Bollington on 4 December 1826, with the ceremonial cutting of the first sod,and progressed steadily. By the autumn of 1829, when engineer Thomas Telford inspected the works, he pronounced himself satisfied with the works.
The canal was completed in 1831 at a cost of £320,000 (the shareholders having authorised borrowings of up to £50,000 to expedite works.) The formal opening took place on 9 November 1831, with ceremonial processions of boats from Congleton and Marple proceeding towards Macclesfield, meticulously timed such that boats would arrive at Macclesfield from both directions at the same time, upon arrival, a salute was fired, and the Band of the Macclesfield Cavalry played God Save the King, before the proprietors and dignitaries retired to the Town Hall for dinner.
Thanks to the Bollington Festival Photograhy Group for the supply of photographs
Click on the Macclesfield Canal Society Logo above for more information.