/ Walking Groups and Local Walks
Walking Groups and Local Walks
Bollington is beautifully situated on the edge of the Peak District, surrounded by spectacular countryside and served by a comprehensive network of footpaths just crying out to be explored. Whether you wish to be part of a serious walking group, join in with a sociable ramble or explore the countryside by yourself there is something for everyone.
Organised Local Walks
The Bridgend Centre run regular short, moderate and longer walks taking in points of interest and local history along the way. These graded circular walks start at 10.15am at the
Bridgend Centre, 101 Palmerston Street SK10 5PW  and finish back at the centre unless otherwise stated.
Please register at the centre at 10am to ensure a prompt start.
£3 per walk
Includes tea, coffee and biscuits at end of walk. 01625 576311
View the current month's walks in the What's On leaflet
Download the latest walking program from here
Walks for Health
Bollington 'Walks for Health' is a programme of short, easy guided walks in and around Bollington designed to encourage new walkers. They provide a great opportunity to enjoy some exercise and meet people.
Easy, less than 2 miles in length, no stiles, with gentle slopes.
Walks take place on:
Mondays at 6:00pm. 
Every other Friday
at 10.30am
Download the 2018 Walks for Health Leaflet
Cheshire East Council Ranger Service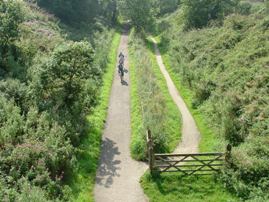 The Rangers run a large number of varied and interesting events, across Cheshire East, throughout the year and this includes a number of guided walks.
The Cheshire East Council Countryside Ranger Service event programme can be found, organised by month, via the menu on this page. Most events are bookable in advance via the online booking service Eventbrite. 
East Cheshire Ramblers
East Cheshire Ramblers is a group within the UK-wide Ramblers organisation.  Most of their members live in the area of north-east Cheshire centred around Macclesfield and Wilmslow.  They organise several walks each week which are generally in our local area or the Peak District but are occasionally in North Wales, the Yorkshire Dales or the Lake District.  
All members of the Ramblers, whatever their local group, are welcome to join their walks; if you aren't a member you can try up to three of the walks before committing yourself to joining. 
To view the latest planned walks please visit the
website
Self Guided Walks
Maps
The Ordnance Survey Explorer Map for the Area is number 268 and you can view an overview here. It can be purchased online or from some of the larger book shops locally.
Parish Path Maps are available for Bollington and the surrounding towns of Rainow, Pott Shrigley and  Prestbury  from the Discovery Centre and Bridgend Centre. You may need more than one Parish Paths Map to complete a walk which straddles the boundaries.
Nostalgia Trails
The Bridgend Centre has developed a number of walking trails that explore the stunning countryside around Bollington. Packs containing maps and detailed directions for all the Trails are available from the Centre at £1.00 per pack.
Each Heritage Trail Pack contains a map, directions, memories, quiz with answers and a furry keepsake for the end of the walk. Markers will guide you around the trail and don't forget to look for surprises along the way!
They also have another series of walks called 'Tree trails' which provide even more routes around the area.
Walking in Cheshire - free downloads*
This website has brought together a number of downloadable walks in the area ranging from simple maps with basic directions  to detailed route plans with historical information.
This website has some excellent information on local walks as well as other outdoor pursuits such as running, orienteering, canoeing and horseriding.
There is a selection of Guided Walks and also Pub Walks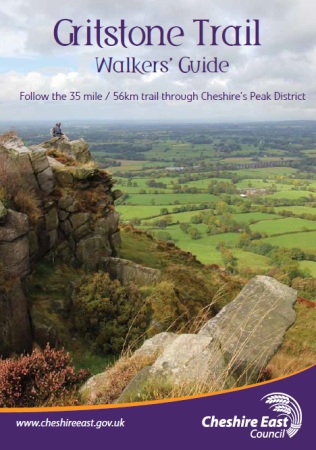 Stride out along the Gritstone Trail and sample some of the finest walking in Cheshire. There are stunning views in all directions from the gritstone ridges abutting the Cheshire plain. On a clear day you'll see views to the Welsh hills and the cathedrals of Liverpool. Along the route there's a variety of interesting landmarks and features. The whole trail is 35 miles (56km) and includes the Kerridge Ridge. Download the leaflet to view the stages of the trail.
Middlewood Way      Walkers are Welcome
Hikideas is a Walking Route Planning App which people can use to create a walk from any point on an ordnance survey map which provides key information such as distance and elevation. People can then print out the route and even export the route for use with a GPS device (so there is no reason to get lost!). You can see the walking route planner here https://www.hikideas.co.uk/walk-planner.html. 
If you know of any other apps which you could recommend for walkers then please get in touch

 
Bollington Walking Festival takes place every autumn  and is a week of fabulous guided walks exploring the scenery, heritage and wildlife of Cheshire where the peaks meet the plains.
Walks to cater for all ages and energies including along the canal and the Middlewood way. A chance also to visit the Town and sample some of our excellent pubs and local accommodation. 
All the latest news and pictures can be found on the Walking Festival Website or Facebook Page.
Email newsletters
Sign-up to our regular newsletters for latest news and events.
Bollington for Business
There are over 500 businesses of all shapes and sizes operating out of Bollington, from local family butchers to nationwide haulage contractors. Use our new online directory to find them...