Pratt of the Argus
Performances on Wednesday 17th, Thursday 18th, Friday 19th and Saturday 20th October.
Bittersweet comedy with music by the writer of "The fall and rise of Reginald Perrin". Sequel to BFP's multiple award winning "Second from last in the sack race". Tells the story of Henry Pratt and his life as a cub reporter.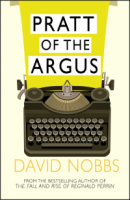 Set in the mid 1950s, this extremely funny play follows the adventures of Henry Pratt when he returns from National Service to his home in Thurmarsh, Yorkshire. With 52 characters performed by only 6 frenzied actors, this is post-war West Riding played at break-neck speed. Along the way, Henry meets such individuals as Norman Pettifer his cousin Hilda's cheesy lodger, insatiable nymphomaniac Ginny Fenwick and George Timpley, the tragic tobacconist.
The young reporter's search for love leaves a string of broken hearts, not least his own, as he skips from Thurmarsh to Twickenham, from Sienna to the Côte d'Azur.
The cast comprises a number of well-known faces from the Bollington theatrical scene: Richard Comish, Di Gordon, Michael Scott, Craig Harris, Diane McIntyre and Anthony Davies.
Tickets £9/£8 available online here or via Ailsa Gordon on 07933 745926 or ailsagordon@yahoo.com.