Bollington Festival Choir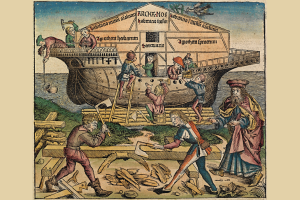 A concert on the lighter side, with Captain Noah and his Floating Zoo by Michael Flanders and Joseph Horovitz and songs about tempests, ships and animals.
In the 1970s jazzy Biblical pieces were all the rage. Publishers Novello asked Joseph Horovitz to write one and he agreed on condition his friend Michael Flanders (of Flanders and Swann) could write the words. Originally recorded by The Kings' Singers, the Choir performs it with the original piano, bass and drums accompaniment. Plus lots of entertaining songs and instrumentals from Choir members!
7:30pm Sunday 24 February 2019
Bollington Arts Centre
Concert Tickets: £10 (£3 for 18s and under) 01625 575554