Whitechapel Freaks
Whitechapel Freaks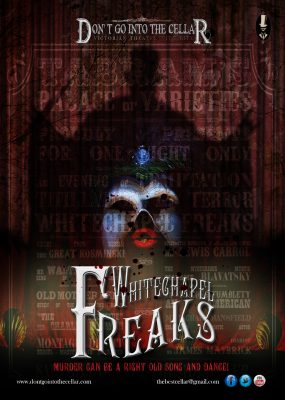 The year is 1888, and London is in terror at the murder spree being committed by "Saucy Jack"! Why not seek respite from the horrors of Whitechapel by spending the evening inside Tabram's Music Hall? Fairy Fay guarantees a ripping time will be shared by one and all…
Whitechapel Freaks is a macabre cabaret of Victorian songs, weird skits and disturbing vignettes wherein you will meet a miscellany of suspects in unfamiliar guises. But which one is the Ripper?
Jonathan Goodwin and Fiona Johnston star in a show written by Jonathan Goodwin, with original music by Gary Archer.
Don't Go Into the Cellar Theatre Co. return for their third visit with this new play based on the truths and myths surrounding Jack the Ripper. DGITC's previous shows have been very well received in the past and this time the company bring two actors for this show.
7.30pm Bollington Arts Centre
Tickets £10 online here or on the door (subject to availability).